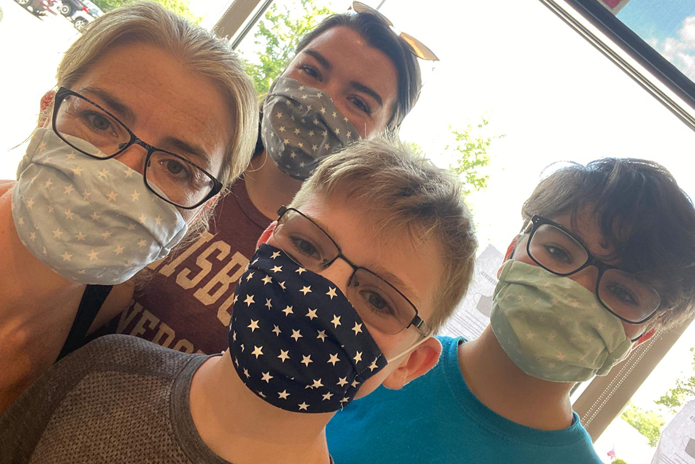 Face masks and foggy glasses
The struggle is real!
Isn't it interesting how seemingly small things have taken on a new significance in this pandemic era? There's a new etiquette to queuing, a changed attitude to personal space, increased caution about touching things and a heightened awareness of the coughs and sniffles around us. And, as face masks become more of 'a thing', I'd guess around half of us are cursing our need for vision correction a little more than usual – well, maybe we're cursing the face mask more than the glasses but it's the combination of the two that's the real sting! Arghh… the dreaded mask-induced spec-fog!
Now, if you're lucky enough to have 20/20 vision, you may not get this, but I bet you will when you're out and about on a bright day with those cool shades perched on your nose along with your face mask! So read on, the struggle is real and it affects billions of people worldwide!
I wear glasses and I feel your pain
You only have to do a quick internet search for face masks for glasses wearers to see how big this problem has become and I read with genuine empathy the frustrated (and justified) bemoaning of my bespectacled comrades. I know that they, like me, have walked into a warm space on a cold day countless times, then stopped in the doorway to ritualistically clean the condensation from their lenses whilst squinting across the space to plan their route to the shop counter or the ticket desk, the bar or the people they're meeting. In my pre-pandemic job (see more about that here if you're interested) I must have done this more than a hundred times a day until I decided I could cope better with the slight blurriness of my uncorrected vision than the constant fiddling with my glasses – but my visual impairment is pretty mild and I really feel for those who don't have that option.
I know the struggle, really I do – at five years old I was close to losing the sight in my left eye until my 'refusal' to read the eye test chart two years in a row was picked up as a concern rather than brushed off as the stubbornness of a pedantic kid. I spent my juvenile years wearing a patch over my right eye to force my left to work and, throughout my childhood and adolescence, I went through the gamut of National Health glasses – first pink, then blue, then brown. Yep, I was one cool kid! But, I was also a very determined and conscientious kid and I spent my after-school/pre-dinner hours curled up on the sofa with a comic book and a felt tip pen training that damned lazy eye to wake up and do its fair share of the donkey work! By age 16, I'd done all I could and, whilst the vision in my left eye would always be a little less than perfect (even with correction), I was able to ditch the specs for about 15 years… until I developed myopia (or short-sightedness) and then, more recently, presbyopia (or age-related long-sightedness).
And now, as if it wasn't enough that I've had to start wearing the damned specs again (though, granted, I've graduated from the National Health styles of old), I'm one of billions of glasses wearers facing the prospect of straining our eyes through perpetual lens fog every time we're in an enclosed space. With the addition of a face mask to our already cluttered faces, no longer will that doorway de-steaming ritual be limited to a quick wipe at the entrance; no more will glasses be a small inconvenience we readily accept in return for the gift of clear sight. Oh no, the face mask and glasses combo will put paid to that. But maybe it doesn't have to be that way!
These days, I wear glasses about half my waking hours (the rest of the time they tend to live perched on my head!) And not just one pair – oh no, I'm one of those lucky four-eyed phenomena who needs a pair of specs for every occasion! It sure is a pain but I count my blessings and am forever grateful to the optician who didn't dismiss my near blindness and disagreed with the 'toddler tantrum' diagnosis of the previous year; and to the eye hospital who treated me for years to come; and especially to my amazing Mum who hand-crafted little cloth eye-patches in cool 70's prints to clip on to my little pink, blue and brown specs (she taught me to sew when I was old enough too, thanks Mum)! Sorry – not sorry, for digressing into something akin to an Oscar's acceptance speech, lol!
How to stop steaming up your glasses
We all have our own normal and we've spent our lifetimes learning how best to accommodate our individual quirks through behaviours, tools or design modifications. Whether you live with an eye condition or you need to don your sunglasses at the first hint of glare, you will likely need to employ some solution or another to fight the fog whilst wearing a face mask.
And, when you join the band of not-so-merry internet searchers desperately seeking a solution to the steam-up, you'll find a whole host of tips and tricks on the results pages. Some suggest taping the top of your face mask to your nose (ouch); others say place a wet tissue between mask and bridge (yuck); some suggest cleaning lenses with shaving foam (each to their own); others endorse using washing up liquid (yup I concur, fellow scuba divers will be familiar with this pre-dive mask-cleaning ritual and, for those of you who don't dive, in this case it's a mask you wear over your eyes and nose, sort of like goggles). Breathe through your nose, they say (OK, you're the expert); make sure your glasses sit on top of your mask (sure); and ensure there are gaps at the sides of your mask so the air escapes there rather than up through the top of your mask (erm, nope… doesn't this fly in the face of the scientific advice about closing the gaps, thus defeating the object of wearing the mask in the first place?) Anyway, you get the gist and I'd encourage you to head on over to your preferred search engine and see if any of these tips work for you.
Before you leave though, please forgive the self-promotion but, honestly, I really don't think I've struggled with the demisting dilemma to the extent others clearly have. And, likewise, my customers who wear glasses – check out this review on my Facebook page or take a look at my Trustpilot site, there's a few there too.
It's all about the nose-bridge wire
Maybe it's because limiting the fogging, misting or steaming of glasses whilst wearing a face mask was high on the list of challenges I was keen to address; long before it became one of the fastest growing internet search phrases of recent times; back when I was designing, developing, prototyping and testing the This Little Hobo Fabric Face Mask. It's all about the fit of the mask you see and, in particular, the nose-bridge wire.
The tape and tissue suggestions above are all about closing the gap between the face mask and the nose and cheekbones so that your warm breath doesn't escape and form condensation on your cool lenses. Most helpful commentators also agree that a nose wire is essential for this and, let me tell you, my nose-bridge wire is a feat of engineering! OK, engineers may or may not agree, but it's certainly an ergonomic design I'm proud to put my name to. My exclusive bridge-wire application extends the full breadth of your face; it's made of soft stainless-steel, mechanically looped at the ends and triple stitched into a lightly cushioned channel.

We are not carbon copies of each other, we are wonderfully unique and I believe that our individual characteristics should be catered for through adaptable design solutions wherever possible. So, my masks are not a one-size-fits-all option, they're available in four sizes and designed for a custom fit over the unique contours of your nose and cheekbones, thus creating that fog-reducing fit us glasses wearers are seeking. If you'd like to find out a little more about what makes the This Little Hobo Fabric Face Mask so special, you can read about the method in my madness here and, if you like what you see, check out my face mask collections and choose your favourite.
No doubt, as we get used to sporting our face masks with our glasses, and after a little trial and error, everyone will find their own preferred means to prevent their glasses from steaming up and I'd love to hear what works for you.
Here's to a fog-free future in our face masks!