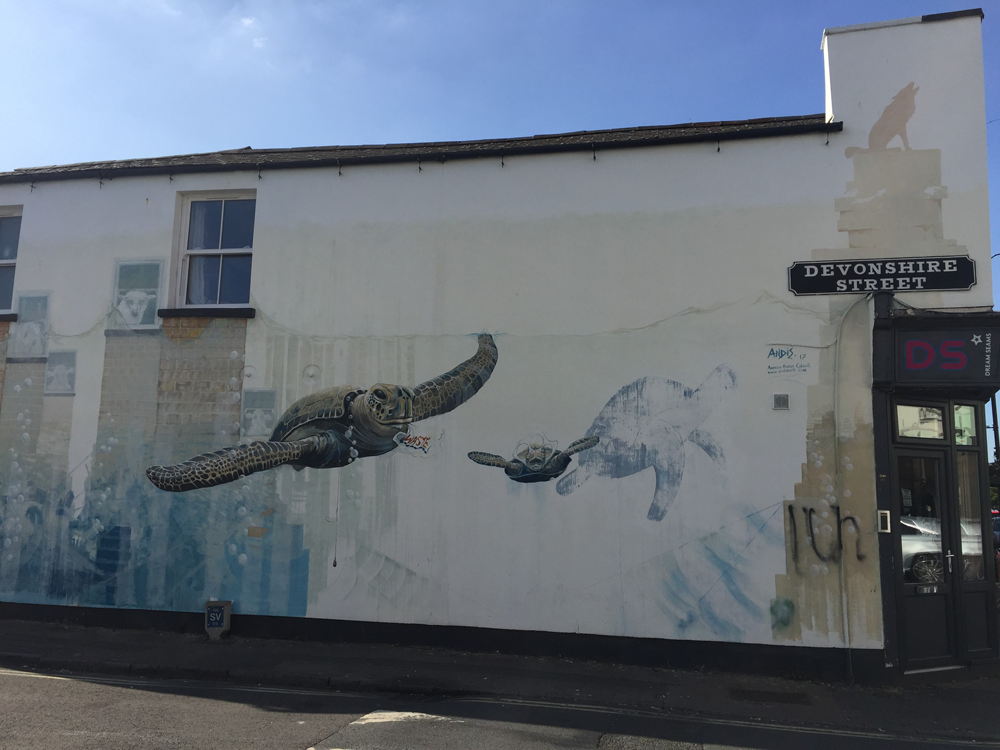 This Little Hobo Stayed at Home
My lockdown lunacy
Wow, what a whirlwind this past fortnight has been!
June 11 – exactly three months since I had my last day of paid work (putting up posters for a theatre in St Albans) and one month since our UK PM, Boris Johnson, advised the nation to wear face coverings where social distancing proves difficult. On this date, after a huge and much needed final shove (thanks sis!), I went live with this little online store. The website was a few weeks in the making; the product – a result of two months graft, getting in touch with the skills and passion for a craft that I'd almost forgotten I had; the brand – a nod to This Little Hobo's 'close cousin', Little Hobo Big World, whose desire to travel and contribute to conservation efforts around the world is still very present!
How did I get here, you ask? Well, maybe not – but it's a question I've asked myself many a time! Honestly, I've been asking myself this for eons... before we were locked down; before we'd even heard of coronavirus; whilst I was earning a crust plodding around some town 3 hours from home in the pouring rain with a soggy bag of posters and a heavy trolley of flyers; since I returned from the experience of a lifetime at Marine Conservation Philippines two years ago; even before I was made redundant from my 'career job' at Coventry University back in 2017. But, we squash it don't we? We just get on with the 'work, sleep, repeat' routine and reluctantly or willingly accept or embrace our lot in life, because there's rarely time to stop and allow ourselves to answer those questions that bubble below the surface and usually only get an airing when we're having a particularly tough time: Am I fulfilled? Is this what I want from my life? What have I missed? Where should I go from here? Am I doing the best I can with what I have?
I'm not alone in this am I? From what I've gathered through chats with friends over the last few months, plus a fair bit of blog-reading and, I confess, sneaky scrolling on social media feeds, maybe not everyone lived with these thoughts in the forefront of their minds, but most of us gave airtime to such random musings from time to time, right?
And then there was lockdown… boom!
I heard it said and saw it written frequently… "We're all in the same boat". But, honestly, back in March, I felt like I was alone on a bit of driftwood, Titanic style when Rose woke from her frozen slumber to find Jack was gone. And, yes, I succumbed to a bit of panic – the unknown is a scary beast and I'm an anxious worrier! Every time I read or heard this well-intentioned comment of solidarity and support, I frantically tried to paddle toward this virtual vessel of calm and acceptance that everyone else seemed to be enjoying, but I had no idea where it was or even if it existed.
And then I came across this little ditty, my thoughts all laid out so eloquently and accurately, as if the author had a scope in my mind and heard me silently screaming "I'm not on your boat"! He sure as heck has an enviable skill with words and I am forever grateful that his prose popped up on my timeline when it did. We were not, are not, never have been and never will be on the same boat! The same ocean yes, maybe even the same destination, or even a matching chartered route, but my bit of driftwood is not the same as yours and our bits of driftwood are vastly different to the rowboat our neighbours are bailing out, or the cruise liner our counterparts were literally or metaphorically imprisoned on (I love a good analogy BTW).
Game changer!
Realising I was alone, but not alone (if that makes sense) kind of gave me a sense of freedom – ironic, given I was pretty much stuck on my tod in my tiny flat! I started to get comfortable with saying goodbye to the 'old normal' and then celebrated its departure – my norm really wasn't much to write home about anyway. Sure, there was lots I missed (and still do) – real contact with family and friends, the gym, how easy it used to be to do a quick supermarket shop, even pounding the streets with my bag of posters, certainly the living income that afforded me – but, hey, it was a damned site easier to just go with the flow, drift on that driftwood for a while, rather than fight the current in some futile learned or innate response to change. And, while drifting, I remembered… change is a good thing, change is necessary, change is an opportunity!
Now, don't get me wrong, I didn't suddenly get a fire in my belly and sit down to map out the building of a fabric face mask empire, lol! Quite the opposite; I floundered, I struggled, I frequently curled up in a ball and wished I could jump on a flight, don my scuba gear and escape to the only place I think I've ever known where the status quo (no, not the band, the way of life) makes sense (still do)! I'm sure I'll have a long old ramble about that one of these days so watch this space if you're interested in why I'd rather be a fish! Oh and I've no doubt I'll have a rant about the catastrophic impact we, the human race, are having on the oceans and our planet in general too.
Y'see? Change… change gives us a freedom to reinvent ourselves, to drop the shackles of conformity, lose the fear of judgement and ridicule… to find our voice and the balls to use it, to stop the nervous sneaky scrolling and get out there unedited and unfiltered, to be ourselves, to join the conversation, to stop hiding! But why was I hiding? Well, that is a whole other blog and I am seriously digressing – I'm known for that y'know, takes me a chapter to say a sentence, I think it's a coping mechanism – just keep talking and nobody will notice that I'm quivering in my boots!
And I'm still quivering, but I'm making friends with the fear and I'm using it as a driver because, actually, I've come to realise that my fear of missing out, of letting life pass me by without grabbing it by the horns and at least trying to make the best of each and every situation, is greater than the fear of failure and judgement and ridicule!
So, after having a bit of a DIY frenzy (not just a lockdown activity for me – I've been trying to finish doing up my flat to rent for two years now, so I can actually be a bona fide Hobo!), I stopped and allowed myself to try and answer some of those difficult questions – most remain unanswered, I'll go back to them eventually, but one was an easy answer! No, I most definitely was not doing the best I could with what I have! More fool me eh? So, I looked at what I have – my skills, my passions, my experience, my credentials and then it hit me.
I had a bit of 'aha' moment!
My lovely sister was making fabric face masks for neighbours and friends at her home in the USA, using a standard pattern of the type you can find online. She inspired me to have a go at putting my spin on the design and I kinda got the bit between my teeth. She told me of the problems wearers experienced – they fall off the nose, they pull up off the chin when people talk, they gape a little at the sides, the pocket opening is a little small to easily slip a filter in, the ties are a nightmare but health professionals prefer them to ear loops… What are you using as nose-bridge wire, I asked. People just use paperclips or pipe-cleaners, she said. Hmmm, I thought!
I dragged out my rarely used but pretty awesome sewing machine (a gift from my parents when I started my BTEC in Fashion too long ago to mention). I grabbed the box of tools and materials I've held on to since I passed my BA Honours Degree in Fashion and Textiles; and my overlocker, an investment long ago when I was asked to make the first of a few wedding dresses. I found a fabulous local technician and took my machines in for a service and I spent hour upon hour researching. I tapped my good friend (an engineer) for input (thanks mate!), I experimented and prototyped and made changes based on the feedback from willing guinea pigs (thanks guys!) and slowly but surely I realised, I'm good at this – I've got something here. What a revelation that was! Something was happening – while in my creative zone, I was becoming more warrior than worrier and I loved it!
Then I got a bit carried away – I had originally hoped to try and sell a few of my face masks on eBay but it just didn't feel right listing this creation I was so proud of alongside the pre-loved clothing from my closet clearout! So, in the spirit of 'doing the best I can with what I have' I drew on my web management experience from pre-redundancy days and went all in to launch my own brand with a dedicated online store (shout out to the team at Shopwired – based locally in the Midlands, UK – whose customer service is second to none).
OK, I confess, I may have passed the threshold into self-indulgence by this point; I certainly did when I decided to add a blog – but what the heck, eh? I've always wanted to write, might as well give it a go while I'm on a roll! My sister was almost yelling at me to just get the blinkin' face masks out there! But, this had evolved into so much more than simply jumping on the fabric face mask bandwagon as a means to keep the wolves at bay.
It might sound crazy, and maybe it is, but it's my crazy and I'm happy to own it and, for the first time in a very long time, I'm going to shout about it! Sorry – not sorry!
Lockdown was a journey for me, it rocked me and shocked me, then it calmed me and let me breathe. It was a wake-up call and a welcome relief and I'm grateful for it. I suspect coming out of lockdown will bring with it all that and more and each of us will experience the 'new normal' differently just as we experienced lockdown differently. I'm still an anxious worrier and change is still scary but, if there's one thing I've learned, I don't have to be good at everything and it's OK if I'm not everyone's cup of tea – as long as I'm doing the best I can with what I've got, I'm good!
How was your lockdown?