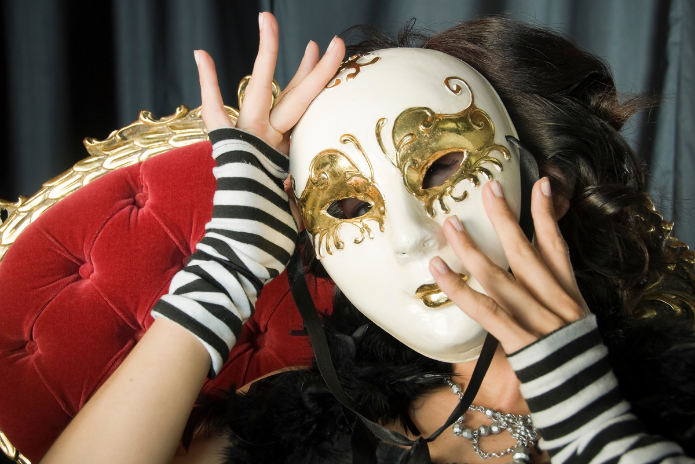 Unmasking the mask-maker
… metaphorically speaking
Hey there Hobos… it's been a while, how are you doing?
Me? I'm good, thanks for asking!
I hear myself saying this a lot (well, when people ask anyway), and I hear others say it too. But I do wonder sometimes – am I really 'good'? Are you? Or are our metaphorical masks hiding more than our physical ones? What are we hiding and why? Camouflage is an art we have become way too good at!
Don't get me wrong, I'm not suggesting we should start answering such pleasantries with a diatribe of all the little niggles in our lives – honestly, I think there's genuinely a lot to be said for projecting a positive vibe (fake it 'til you make it if you like). Sometimes, we can actually be our own remedy by putting a positive spin on our daily challenges and acknowledging our screw-ups with a wry smile – good humour is a great tonic and nobody has much time for a moaning Minnie do they? But can we be honest when we really need to be and do we even know when we've reached that precipice… when we're way off 'good', we've bypassed 'fine', missed the turn for 'ok', run the light at 'so-so', taken the one-way street at 'pretty crap actually' and are plummeting headlong toward 'in crisis'?
It's World Mental Health Day today
I had so much planned for my day… a new collection to launch with all the website and social media stuff that entails; new fabrics to sample; a newsletter to write; an extra special face mask order to finish… and all that after I've done the housework! But you know what? Today I just can't, today I need a duvet day, some time out, some 'me time', a mental health day! I wonder if the World Health Organisation's day of recognition served as a kind of internal 'self-care alarm clock' for anyone else? It wasn't a conscious thing for me, I just had all the feels – the ones that tell me I'm a little off kilter, I'm burned out and wobbly, full of self-doubt and overly anxious – the little warnings I've learned to pay attention to because the result of ignoring them really ain't pretty!
There was a time long ago when I couldn't be honest with myself or anyone else and, back then, I sure as heck didn't recognise the signs (it was unchartered territory for me then). Boy, did I pay the price… I think those around me did too, though the friends who stuck around for the long haul are just too kind to tell me that! It's a long road back from destination depression and, tragically, for some it's a one-way ticket. Sometimes, just being honest (with yourself as much as others) can be enough to shift the gears and the kindness of friends and strangers can be a lifeline. Sometimes you just have to pull off the road and take a power nap and sometimes you need to make an emergency stop and call for a breakdown service, but we need to know ourselves well enough to recognise the signs and we need to be brave enough to put our hazard lights on. And, likewise, when someone takes off their mask and sets off that flare, we sure as heck better show up for them!
Finding methods for my madness
These days, I make no secret of my anxiety; it's as much a part of me as my restlessness and wanderlust, my love of animals and the ocean, and my fear of heights and spiders. Of course, I don't enjoy the nausea, the hyperventilating is exhausting and the overthinking drives me nuts, but having a restless soul isn't comfortable, love hurts and fear isn't always fun; so I find my coping strategies just like I do with everything else that makes me me. And you know what I've realised? I've added a tool to my armoury... my face masks!
Yep, hands up, I confess – I like wearing my face masks, please don't judge me! I must admit, if I were physically uncomfortable wearing them I suspect I may feel differently – I had the displeasure of wearing a disposable one for the first time on a visit to the dentist recently; suffice to say it had to be removed during my treatment, but the 20 minutes or so I had it on only made me more confused as to why it endures as the most popular choice of face covering, especially given its potential for harm to the environment – but I'll park that for now, that's for another blog, another time!
Now, I might not have been brave enough to admit this little revelation to you before today because, honestly, even I accept that this fondness for face masks may appear to many as rather odd, but I'm emboldened by a little article I happened upon about some active research into face mask wearing and social anxiety, so please bear with me and be kind because it seems I'm not alone.
How ironic
When wearing a face mask, many people feel more able to remove their metaphorical mask. Go figure!
I don't know if I would class myself as suffering from social anxiety per se ('generalised anxiety disorder' was, I recall, my diagnosis back in the day), but I recognise many of the symptoms and I sure as heck procrastinate like a boss whenever I have to leave the comfort zone of my flat and workspace! And I can most definitely relate to many of the feelings expressed on this subreddit: r/anxiety.
I should say that the researchers do warn about the potential risk of dependency because, of course, wearing a face mask is not a cure for social anxiety but, I wonder, is it really so different from bowing your head, burying your face in your scarf or hiding behind your hair? We all find our own coping mechanisms and, provided we're showing up, doing the best we can with what we have, and not harming ourselves or others, each to their own I say!
So, key takeaways… wear a fabric face mask not a metaphorical one (or a disposable one), make it a camouflage one for an added bit of irony if you fancy - check out my camo collection and pick your favourite. Be honest and brave, find the courage and the tools to be your authentic self from time to time, don't judge and be kind… always be kind.
Happy World Mental Health Day Hobos! x