Fabric face masks: exclusive design, quality construction
Fabric face masks: exclusive design, quality construction
Fabric face masks: exclusive design, quality construction
From the simple no-sew to the branded mass-produced, there is a growing array of fabric face mask options available. How do you choose which is best for you? Is it about the quality or the price; the cut and style or the comfort and fit; the pretty print and colour or the fabric content and construction? Which is better - pleats or shaped; ear elastics or head ties? And does one size really fit all?
Are you looking for a mask that is comfortable and adjustable; wash and wearable; beautifully made and affordable? I was, and this is the result!
The This Little Hobo Fabric Face Mask has been professionally designed and made with all the above in mind, along with a desire to produce a quality option which provides choice, flexibility and, of course, as much comfort and *protection as possible. It is the result of much prototyping and trialling; adjusting and improving; sourcing and testing of materials; experimentation and refinement of processes.


Made from quality cottons, two-ply with filter pocket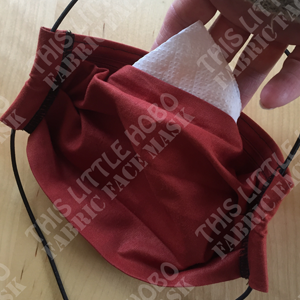 The This Little Hobo Fabric Face Mask is available in a variety of quality close-weave 100% cotton and cotton-rich fabrics, offering you a choice of colours, prints and patterns in a few different weaves and weights. Check out my face mask collections to see details for each mask. Please note that some fabrics are remnants and, for those supplied without precise detail of fibre content and weave, I have made an informed identification using reference guides and burn tests in order to help you choose your preferred fabric face mask. Remnants will not be restocked but I will do my best to source similar for popular lines and, if you have any special requests, please feel free to drop me a line!
As a supporter of the slow fashion movement with a desire to operate as sustainably as possible, I aim to make-to-order to minimise potential wastage whilst holding in stock a small quantity of ready-made and part-made fabric face masks for fast turnaround. Please see delivery details for information about lead times and order fulfilment.
All my fabric face masks are double-layered. A concealed pocket between layers provides the option to add a disposable, single-use filter of your choice. Filters are not included as I believe that the type of filter, and whether to add one or not, is a personal choice. I might recommend adding one in masks made in lighter weight fabrics to add extra protection and form but, in my opinion, the more comfortable you feel in your mask, the more protection it will offer as a filter is not going to compensate for constantly needing to touch and adjust your mask.
The choice is yours and there's lots of freely available disposable filter options you may like to try, such as: coffee filter paper; kitchen paper; hoover bag paper; garage shop paper; dried wet-wipes.


Ergonomically designed with unique comfort bridge wire
The This Little Hobo Fabric Face Mask features a bridge wire which extends the full width of the mask. The soft stainless steel wire is mechanically looped at the ends and triple-stitched into a lightly cushioned channel. This stitching is not visible on the outside so the clean, simple styling is preserved.
The bridge wire can be easily formed to follow the unique contours of your face and it's surprisingly comfortable! Malleable and hygienic, safe and secure, it won't rust or dislodge with repeated wash and wear and, with proper care and attention to washing instructions, it will mostly retain its formed shape in the washing machine. In fact, I recommend avoiding repeated reshaping in order to preserve the wire's integrity. So, after first fit, wear and wash, you'll just need to gently mould it back to your cheekbones.
This unique bridge wire application maximises comfort and protection and minimises fogging of spectacles and sunglasses. After first fit (and once you've adjusted to the strangeness of wearing a face covering), you'll find the mask will sit on your face with very little help from the elastics. The bespoke fit and structure of the bridge mean the elastics can remain relaxed not taught, improving comfort further. Another benefit this provides is for guys with big beards, who may prefer to wear the bottom elastic under their beard rather than behind their head or neck.


Exclusive adjustable multi-way elastics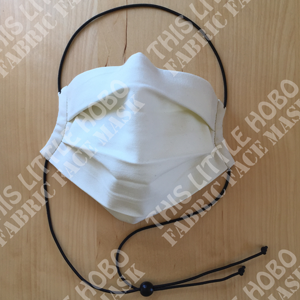 As preferred by many healthcare professionals, the This Little Hobo Fabric Face Mask is designed to secure around the head and/or neck to avoid irritation around the ears. White or black rope elastic can be positioned according to individual comfort and is easily adjusted and secured with a matching sliding wooden bead.
The elastics run through neat side channels and aid the aim of a no-gap fit by lightly shaping the sides of the mask to sit comfortably against your cheeks. Channels are secured with discreet sink-stitching (the only visible stitching on the outside) which, unless colour-matched to the fabric, will be black or white to match your choice of elastic colour.
If you prefer, the elastic can be easily cut and tied to make ear loops. Full instructions are provided with your mask, along with a fitting guide and washing instructions.
It is widely recommended that, to cleanse fabric face masks of possible viral contaminants, they are washed with regular laundry detergent. The This Little Hobo Fabric Face Mask has been wash-tested in an automatic washing machine at temperatures of 40 to 60 degrees.
Available in sizes extra small to large in a growing range of plain cottons, cotton prints and patterns, and featured collections, I hope you will find a This Little Hobo Fabric Face Mask that meets all your needs.
*The debate about the effectiveness of fabric face masks rumbles on but, regardless of our differing opinions, people across the world are now being advised and, in many cases, instructed to wear one. Personally I believe there must be some value, provided they fit well, we wear them properly, we're not tempted to touch our face constantly to adjust them and we don't let them become an excuse for complacency. One thing's for sure though, no fabric face mask offers medical grade protection and, as such, whilst I am confident I have developed a mask which is as well-fitting, comfortable and protective as a fabric face mask can be, I make no claims that This Little Hobo Fabric Face Masks will prevent viral transmission.


Face coverings should not be used by children under the age of 3 or those who may find it difficult to manage them correctly.
Please store your This Little Hobo Fabric Face Mask safely out of reach of anyone for whom it could pose a hazard.
See the UK Government's guidance on staying safe outside your home.